Native British English corporate English teacher, business English trainer and company language coaching in Madrid Spain

Edward Olive is a former commercial lawyer (UK city solicitor) and former university business & European law lecturer in Leeds University and in London.
Edward Olive currently works as professional screen actor and voice over artist.
He provides specialists classes as British English teacher, business English teacher, voice coach for presentations & public speaking,
accent reduction coach, learning English thorugh drama coach & acting coach for professional coaching
in small groups or individual classes with specialised professional business English courses.

Contact us for prices & rates:
Specialist English for business courses taught by Edward Olive English Academy

(For intermediate and advanced speakers only)
(Extensive and extensive classes)

1. Business correspondence in English - letters, e-mails, faxes etc;
2. Business telephone calls and conference calls;
3. English pronunciation - overcoming particular problems Spanish speakers have;
4. Voice work – reading, vocal strength, intonation, stress etc;
5. Giving presentations and conducting meetings in English;
6. Sales techniques in English;
7. English for lawyers and legal staff.
Edward Olive
Madrid
0034 605610767
edwardolive@hotmail.com
http://www.edwardolive.com/
Corporate English language training and voice coaching in Madrid Spain

The above courses are taught using our own explanatory written material, specific vocabulary lists, group role-plays, student presentations and written exercises.
They are also designed to redress particular problems Spanish speakers have in English generally and in the business environment.
1. Pronunciation
2. General learning skills
3. Grammar and verbs
4. Business skills/ business vocabulary
5. General vocabulary/ source material/ notes
Daily rates, half days, hourly rates & weekly rates. Special pricing for entire film shoot durations.
Registered self-employed freelance (autónomo) in Madrid Spain for directing Euro & Sterling VAT invoicing for voice-overs & shoots.
Euro IBAN BICS SWIFT, Paypal & Sterling account payment possibilities for clients.
Edward Olive
Madrid
0034 605610767
edwardolive@hotmail.com
http://www.edwardolive.com/
Corporate English language training and voice coaching in Madrid Spain

Business English materials provided to students of the Edward Olive English School in Madrid Spain
Student Starter Pack
Business Skills

Business Correspondence
CV writing
Interviews
Meetings and negotiating
Telephone skills
Presentations business and sales
Sales and selling
Sales Vocabulary

Business Vocabulary

Computer and IT vocabulary
Office vocabulary
Sales vocabulary
Edward Olive
Madrid
0034 605610767
edwardolive@hotmail.com
http://www.edwardolive.com/
Corporate English language training and voice coaching in Madrid Spain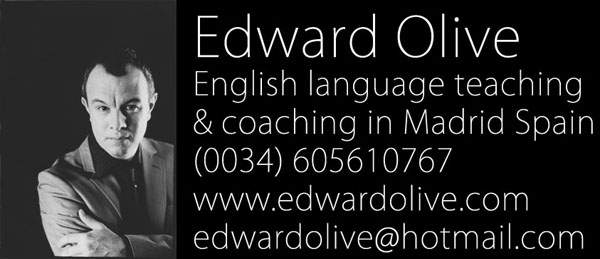 General English course delivered by Edward Olive English teacher for companies, legal and business professionals in Madrid Spain
General & Colloquial Vocabulary

Abbreviations
Colloquial and slang vocabulary
Describing
Dictating names
Eating out
Environment
Everyday vocabulary
Expressions
Getting abroad and getting around
Human Qualities
Payment
Play on words
Punctuation
Times of the day
UK versus Spain culture
US vocabulary

General Learning
My favourite mistakes
My mistakes
My week
New vocabulary
Skills
Speaking charades
Subjects for debate
This week lessons
Word game
Writing exercises

Grammar & Verbs
Grammar
Idioms
Make & do
Modal verbs
Prepositions
Questions
Some & any
The
Verb revision
Verb revision advanced
Verbs ing or to
Verbs irregular verbs
Whoever Whatever
Phonetic breakdown of English - Speech rhythm of English - English Speech intonation - Relaxation techniques - Breathing and posture exercises
Vocal agility exercises - Confidence building in English - Presenting and public speaking - Body language - Speech style
RP Received pronunciation BBC standard English - Voice Coach - Learning English through acting Coach
Presentation Skills Coach - Vocal Skills Trainer - Public Speaking Coach
Communication Skills Coach - Speech Coach - Voice Trainer
In-person Dialect Coaching for business meetings, presentations and sales - Skype-coaching - Phone-coaching
Edward Olive
Madrid
0034 605610767
edwardolive@hotmail.com
http://www.edwardolive.com/
Corporate English language training and voice coaching in Madrid Spain

British business & corporate English teacher and professional English coach for public speaking & presentations in Madrid Spain

British English teacher & English voice coach for corporate executives, company directors, businessmen & women, lawyers,
sales staff, representatives, marketing teams, doctors and politicians in Madrid Spain.
Professional voice coaching for company directors, businessemen, lawyers, pilots & sales representatives for speeches, presentations & public speaking.
Business executives, singers, radio presenters & media professionals

Posture - presence - breath release - clear tone - resonance - vocal range - vocal variety - clarity of articulation - projection - speeches
Dialect - voice production - accent reduction - acting
Training for actors and training for non-actors


Specialist pronunciation and accent reduction courses for business professionals, lawyers, company directors and sales

Acting vocal exercises consonants vowels
Pronunciation 1 course details
Pronunciation 2 Some US changes
Pronunciation 3 SZ etc
Pronunciation 4
Pronunciation 5 Spanish problems
Pronunciation Brand names etc
Pronunciation Cockney & London
Pronunciation contractions
Pronunciation contractions 2
Pronunciation letters
Pronunciation phonetic symbols
Pronunciationphonetic symbols 2
Pronunciation phonetic symbols 3 chart
Pronunciation phonetic symbols full list
Pronunciation phonetic symbols Practice vowels
Pronunciation plurals
Pronunciation Scwah
Pronunciation simple past
Pronunciation standard US course
Pronunciation standard US course 2
Edward Olive
Madrid
0034 605610767
edwardolive@hotmail.com
http://www.edwardolive.com/
Corporate English language training and voice coaching in Madrid Spain

Film and televison Scripts to practice effective presentation English and business English for company executives
Movie / film scripts
including:
Notting Hill film movie script
American Beauty film movie script
Four Rooms movie film script
The Talented Mr Ripley movie script
Toy Story film script
Mean Streets movie film script
Lock stock and two smoking barrels film script
Resevoir Dogs film movie script
Pulp Fiction film movie script
Television TV series scripts
including:
Monty Python Sketches
Black Adder television TV series
Married with children Television TV series

Edward Olive
Madrid
0034 605610767
edwardolive@hotmail.com
http://www.edwardolive.com/
Corporate English language training and voice coaching in Madrid Spain

Learning English and speaking skills thorugh acting with Edward Olive English teacher & professional screen actor & drama coach

Acting basic film movie tv vocabulary
Acting day of the shoot
Acting feeling high emotion
Acting *uck it!
Acting give it some
Acting more casting tips
Acting public and private
Acting screen acting tips 1
Acting screen acting vocabulary 1
Acting set the stage feeling at home
Acting social issues
Acting telephone casting exercises
Acting Tramps druggies winos
Acting vocal exercises breathing 1
Acting vocal exercises consonants vowels
Acting working for free
Acting learning 1 skills acting
Acting learning 2 reading
Acting learning 3 presentations
Acting learning 5 US vocabulary acting
Acting learning 6 role plays acting
Acting learning 7 read and act
Acting learning 14 my week acting
Acting learning act for business
Acting learning act a character
Acting learning acting atmosphere and styles
Acting learning memorising scripts
Acting learning coping with nerves
Acting learning advanced preparation
Acting learning preparing a part or role
Acting learning senses and language
Acting learning speaking statues
Acting learning working with a partner
Acting learning casting practice 1
Acting learning extra reading
Acting learning improvisations and random
Acting learning practice stress
Acting learning practice subtext
Acting learning reading intonation
Acting learning reading subtext

Edward Olive
Madrid
0034 605610767
edwardolive@hotmail.com
http://www.edwardolive.com/
Corporate English language training and voice coaching in Madrid Spain

British English teacher in Madrid - Corporate & business English schools, academies & teachers for companies in Madrid Spain